Here's how to market your small business, rise above the noise, and stay real!
"Strategic, thoughtful marketing should have one main purpose: to help you increase your brand's awareness and profitability." 
As a small business owner for going on 19 years, I understand that for a budget constrained small business, marketing your products and services effectively can be a challenge. From social media campaigns to email marketing, direct mail, networking, branding, and strategy, it's quite demanding for many small business owners to excel at marketing while also focusing on growing their business. Understanding the constantly changing marketing landscape and having access to the money you need to handle it all is, well… it's just exhausting!
My clients are small business owners, and like me, they deal with the same problems of time and money. My advice has always been to start with a strategic plan based on what you can handle time wise, budget wise and talent wise.  So many are led astray by detailed and analytical programs that were way over their head, and simply not necessary – it's best to start with some true basics. And don't get me wrong here, I believe in analytics and measuring results, but let's do some marketing first!
So then how do you determine the best way to market you business? To answer that, let's take a look at these straight forward and simple marketing strategies for small business owners…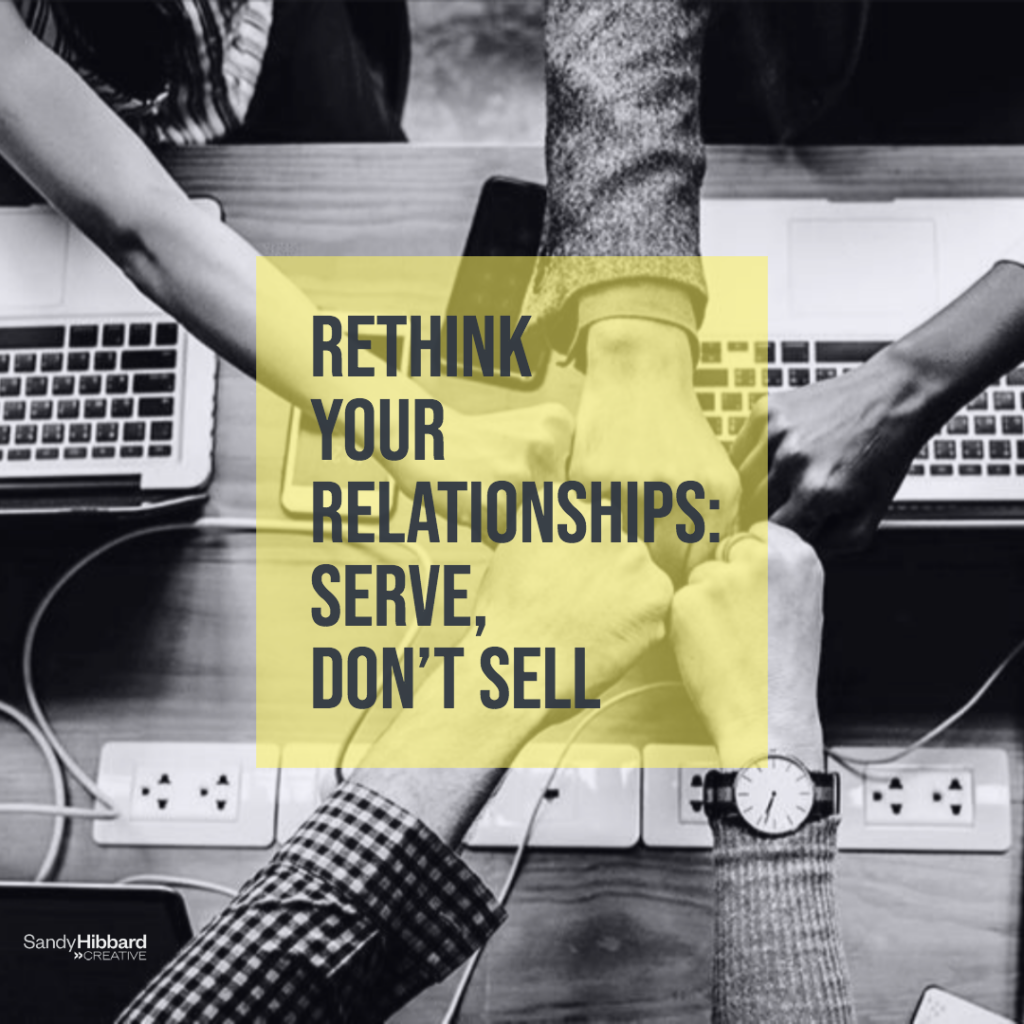 1-First and foremost, keep your marketing authentic
Your marketing and social feeds should be more than "ME ME ME". Brands that are authentic and approachable, with real people interacting with customers and prospects,  are not only refreshing, they are successful. Keeping this in mind and at the forefront of all your marketing initiatives is vital. Create an environment in your marketing that is about the "share".
2-Take advantage of Google My Business
Google My Business is a great marketing tool for small businesses that focus on niche markets. When people search for your business on Google, your website will appear with everything your audience needs to know. Keeping your page up-to-date is essential to drawing in more customers and taking control of your company's visibility. Positive reviews also build your brand's credibility. The difference between a three-star and four-star rating on Google can make or break your potential for new sales.
3- Provide value to your customers
This should be a no-brainer, but gaining your customers' trust is crucial for fostering a mutually beneficial, long-term relationship with them—and creating valuable content is a great starting point. For instance, a blog section on your website is a great way to build credibility and awareness. You can also use that content to drive traffic both organically and via paid channels. Relevant, topical content helps boost your search rankings while paid ads and social media can give your posts a wider reach than you might otherwise have. Ultimately, supplying educational content on a consistent basis encourages prospects to engage with your brand in an organic way and helps build trust before you make an "ask," increasing the likelihood that you'll turn prospects into customers.
4- Event marketing
Hosting an event is a great way to acquire new customers. Offering promotions, discounts, educational workshops, speakers and free demos of your product or service at your event puts your company in the spotlight. But don't forget to promote your event! Promoting your event through social media and a company news release to your contacts will give you a better chance of gathering attendees. Even if you don't make a sale that day, you've built awareness around your product or service and you get the conversation started around your product through social media and word of mouth. Your budget will dictate the size of the event, but if you do the market research and target the right people, you'll ensure that sales will follow.
5- Don't forget about your existing customers
Nurturing your relationship with your existing customers. For every business, it's more affordable and efficient to invest in a relationship with existing clients than to invest efforts in getting new customers. So, call your customers to see if they are satisfied with your product, send them birthday's cards, plan one-on-ones or drop-bys, organize special promotions only for them and find other ways you can show you care about them.
6- Promote your business on Instagram
With over 1 billion active monthly users, Instagram has become one of the most popular social networks. Being active on Instagram is an amazing way to get your brand's name out there. Keep in mind that visuals are everything. There cannot be a poorly taken video or image on your page. You need to keep it crisp and visually appealing. Taking advantage of Instagram's advertising options also generates engagement with your audience. You can promote to as general or specific audience as you wish for a reasonable price. On your daily social posts that you are not promoting, using relevant hashtags also reaches potential customers without spending a dime. Engaging with Instagram accounts will also give you a better chance of increasing your following and creating conversions.
7- Build customer relationships through email marketing
Email marketing is one of the most effective strategies to stay in touch with prospects and customers. 83% of people prefer email as one of the channels to receive promotions from brands they trust. *Email Addiction Report 2019. Build your email list from clients, past and present, people you meet, and people you would like to meet and do business with.
Getting to know your list takes time, and building trust with them takes time. So plan informative, educational, authentic emails with a personal touch from you, and stick with it. Be real, and remember, it takes consistency and repetition to get noticed. Just like any successful marketing strategy, you have to be willing to go the distance.
8. Promote your best content
Don't let scanty budgets deter you from social media promotion, or running paid campaigns. Produce quality content consistently on a few channels and then unleash the power of paid campaigns to promote some of your top performing content. Using small budgets smartly, make sure that you can make more use of the content that you create. Your best content has the potential to bring in traffic in both social and search if done well.
9. Create video updates and explainer videos
Visual content is big. With fast changing social media algorithms, you need to create content that sticks with your audience. Visual and especially video content is a powerful way to get more reach and engagement on your content. You can use your smartphone or a professional camera to shoot videos and edit them using the (free) apps. Instagram users are crazy about stories, story videos, and IGTV videos.
Video content is born out of emotions and that's what the audience wants to consume. You need to jump in, take the first-mover advantage and get ahead of your game.
Summary
As a small business, the key to establishing a reputation is to create quality content. Promoting this content on one-two core channels helps in getting the audience to see it. Marketing today is about being helpful and authentic. It's unique content that catches attention and sticks for longer. It then becomes the voice of your brand, creating raving fans and followers.
Last but not least, if you're persistent and consistent with your marketing efforts, you will definitely see positive results.  You will create awareness and increase profitability. But remember, every business is different. What works for my business may not work for yours. So you have to dig in to discover what works for you – the channels, the message, and the method!
* * * * *
Sandy Hibbard Creative is available to help you discover your brand message and then give it life and take it to market. Contact Sandy to schedule a free call to talk about your marketing needs and discuss how we can work together!
Sandy – 214-208-3987 – info@sandyhibbardcreative.com
* * * * *
Related Article: 8 Marketing Methods You Need to Master in 2019