Hello Big Tex!
Throw out the rules, all is fair-game when building your brand!
Sandy Hibbard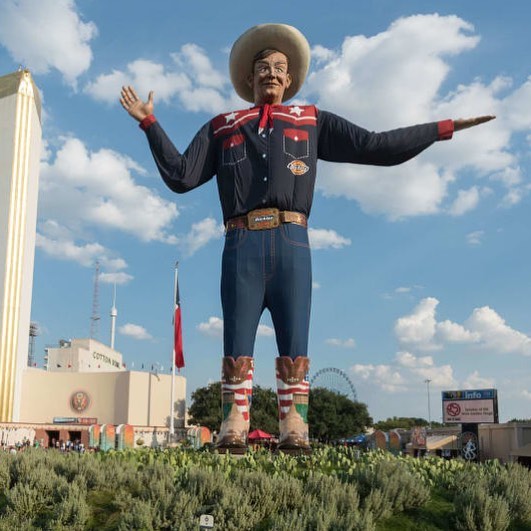 Yep, it's time here in Texas for the state fair, THE best state fair in the nation. There are so many elements of the Texas State Fair that remind me of what good marketing ought to measure up to. Let's take a look …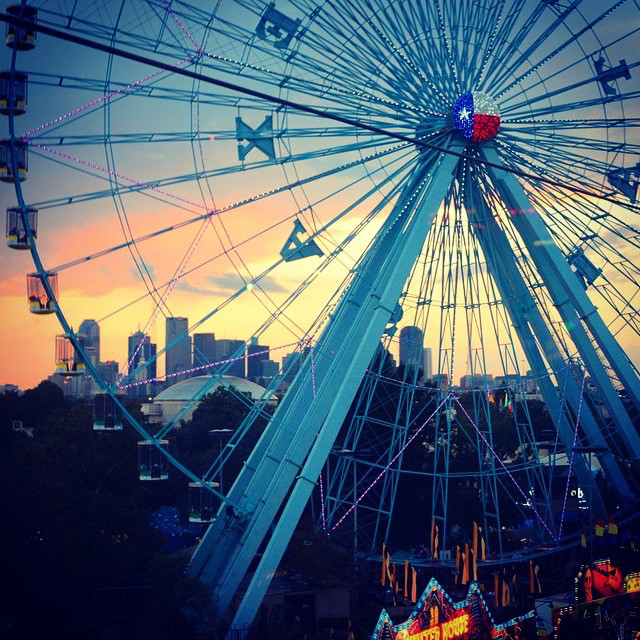 The Texas state fair is a favorite of the residents of Texas for a lot of reasons, let me give you a few:
Fair Park is the bomb!

Built around historical buildings that date back to the early 1930's, the parks layout is beautiful

. There are waterways and architectural elements that give it an air of nostalgia. All too good for a state fair. It's super clean, and you can hang out, listen to music, visit museums, exhibits, watch the water works or play the midway. There is something for everyone!

The corn dogs!

Fletcher's corn dogs bring people in from across the State. There is nothing like sinking your teeth into a piping hot, crunchy bite. And when it's  loaded with mustard – it's heaven. I've never had better, definitely worth the wait in line.

Big Tex!

Big Tex fascinated me when I was a kid. When I would visit the fair, I would bee-line it to see this large talking sculpture. His voice, canned and simple, reminded me of an old western cowboy. As an adult, Big Tex not only reminds me of my youth, but also of the grandiose themes you see throughout Texas. It may be cheesy, but it's definitely memorable.
Big is as Big as You Make it
I can
easily
recite more things I love about the Texas State Fair, and rather
quickly
. Why? Because "they" have BRANDED their product into my psyche and life for years. Besides, we all know that BIG works, right? The big brands, the big money, the big celebrities, the people with the most followers, the influencers, the super stars… NOT HARD to share your thing when you have money and an audience! But finding your own niche and dominating – that is also BIG – ever heard of the big fish in the little pond?
You can take #1 above and use it to create the most inspiring strategy for your business and clients. Whatever you are offering, doing, providing, put your soul into it. Make it beautiful, be consistent in it's delivery, and never take the short cut. And don't wipe away the old – there goes your character! Instead, improve the old, make it work for today, keep it in shape.
In #2, offer a product that is delicious! Make them come to you because what you have is the best. You may not be the only corn dog in the market, but by
golly
you're the best. And… you
consistently
deliver the taste they – your customers – want! 
Use #3 above to envision an icon. How do you build an icon in your business. Is that you? Are you the front woman? Are you the man talking? Make it real and authentic, give it character and personality and then be there. Be consistent (you're hearing that word a lot today).
In today's market there is room for everyone, the challenge is getting your message heard. You have to be consistent in your branding AND in your marketing. You have to tell your story. If you don't, it won't matter how pretty you look or how gorgeous your content is, NO ONE will see it. No one will ever know about you and the answers you offer to their problems.
All is Fair in Building Your Brand
Throw out the rules and do what works for your business. Be BIG in your thoughts and don't hold back. Take your vision and execute it – go beyond the basic and make it exceptional. This is what I mean by all is fair-game
. Be you. If you are a social animal then be crazy out there. If you're not, don't be fake, find what works for your brand image. 
The Texas State Fair works. There is something there for everyone in their audience – those who love state fairs! Big Tex executes AND delivers with consistency. Authenticity and fun are it's values, and it's all put together with a quality that is unique to it's field. Now that's good branding.