"Your personal brand is what people say about you when you are not in the room. Make it something great."
Whether you are Babu Ji (the hip Indian restaurant in NYC) or the up and coming new jazz artist in your area, your personal brand says it all. If you are a Realtor, a jewelry designer, investment broker, or a small business owner, you are selling your services based on what YOU bring to the table. You are attracting customers and gaining influence with your own unique personal branding.  But what is it really saying about YOU?
What is personal branding anyway?
According to Wikipedia, Personal branding is the practice of people marketing themselves and their careers as brands. While previous self-help management techniques were about self-improvement, the personal-branding concept suggests instead that success comes from self-packaging.
I totally agree, except I would add that personal branding is the job of marketing your unique personality, talent and skills in a creative way so that it reveals your expertise in a specific area.
Additionally, personal branding is the ongoing process of establishing your image or the impression of you in the minds of others. One example of personal branding is the application of one's name to various products – Chanel, Versace YSL – in fashion –  it's endless. Ebby Halliday if you are a Realtor in Dallas, or Corcoran if you are a Realtor in NYC.
"Your brand is a perception or emotion, maintained by somebody other than you, that describes the total experience of having a relationship with you." ~ David McNally
Kim Kardashian has a strong personal brand. Taylor Swift just influenced tens of thousands of young people to get out and vote. Beyonce can drop a record at midnight and be platinum the next day.  These ladies are considered to be extremely influential people, so every product they endorse skyrockets on the market. Influencers we see in social media are the same, they use their celebrity or "personal brand" that resonates with a targeted demographic to sell products or ideas to others. Their success is all a result of personal branding.
Now, let's bring it down to the level of the real world, where people like you and I do business. We may not be working with Beyonce' or have the influence of Taylor Swift, but we do have influence in our own spheres and there is a need for personal branding.
How do you build YOUR personal brand and increase YOUR influence?
Create your Hub
If you are going to have a personal brand, you will need a website and social media to build your content library and share your voice. Your website should be your name. Your social media accounts should represent your brand, industry, and your name as well.
Identify Your Uniqueness and Your Strengths
Think about the characteristics and strengths you have built. If you are stuck, think about that "one thing" that everyone says you rock at. If you're still stuck, ask others.
Be Yourself
Find your own style and create a new set of footprints for others to follow in.​ Groom your own authenticity and uniqueness. Understand and embrace your value. Then share it to the world.
Craft Your Personal Brand Persona
Your persona can be created by:
Identifying your emotional appeal. What are your personality features? This can be as easy as saying you have a crazy sense of humor or that you are obsessively organized. Take a few moments, why do you think people are attracted to the brand of you?
Describing yourself. When it comes to your brand who are you and why do people enjoy working with you or buying your products, or attending your shows?
Identifying your specialty. What do you do and what do people want you to do for them?
Use these exercises to create a strong personal brand persona that you can always refer to when it comes to creating materials that support your brand and business products.
Building a personal brand takes time and effort, but it's worth it. The need for a personal brand will continue to increase. It's the one thing that no one can take away from you.
If you need help discovering your personal brand and creating the look to go with it, I would love to talk to you personally. Give me a call at 214-208-3987 and let's brainstorm "brand you"!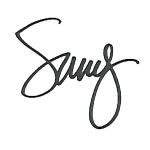 Photo of Babu Ji in NYC © Sandy Hibbard.