Get CREATIVE and build your online #INFLUENCE
Building a strong and CREATIVE online presence on Instagram will empower your brand and increase your online INFLUENCE. 
Here are four easy steps that will get you REAL results and INCREASE sales for your business:
1 – Properly set up your account with a FABULOUS profile pic and engaging description that matches the content of your page
2 – Create eye-catching IMAGES that attract your targeted followers
3 – Post CONSISTENTLY – at least once a day and use descriptions on each photo with 5-10 #HASHTAGS
4 – Follow and ENGAGE with accounts within your sphere DAILY
A search friendly profile, targeting the right Instagram accounts, sharing fabulous images with detailed text, and consistent posting is the golden formula for growing your Instagram feed and creating #INFLUENCE online. It's not rocket science, but it takes time and a focused strategy with an understanding of the social market….that's where #InstaBranding comes in.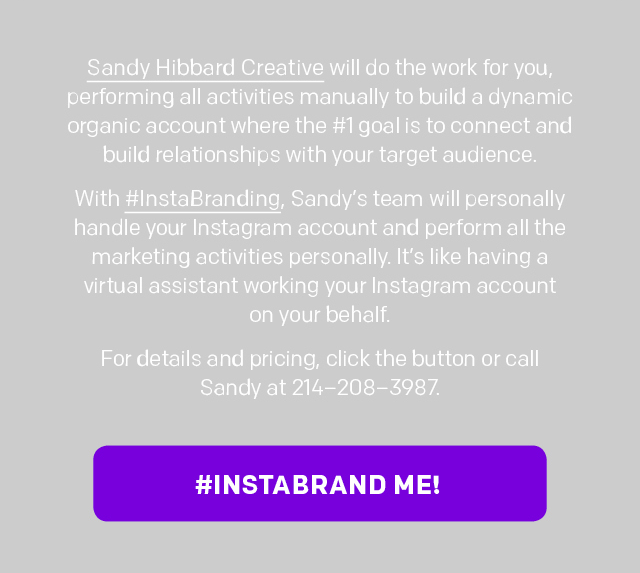 Sandy Hibbard Creative will do the work for you, performing all activities manually to build a dynamic organic account where the #1 goal is to connect and build relationships with your target audience. With #InstaBranding, Sandy's team will personally handle your Instagram account and perform all the marketing activities personally. It's like having a virtual assistant working your Instagram account on your behalf.
Featured ​image design by @nsthtc #nuaesthetic